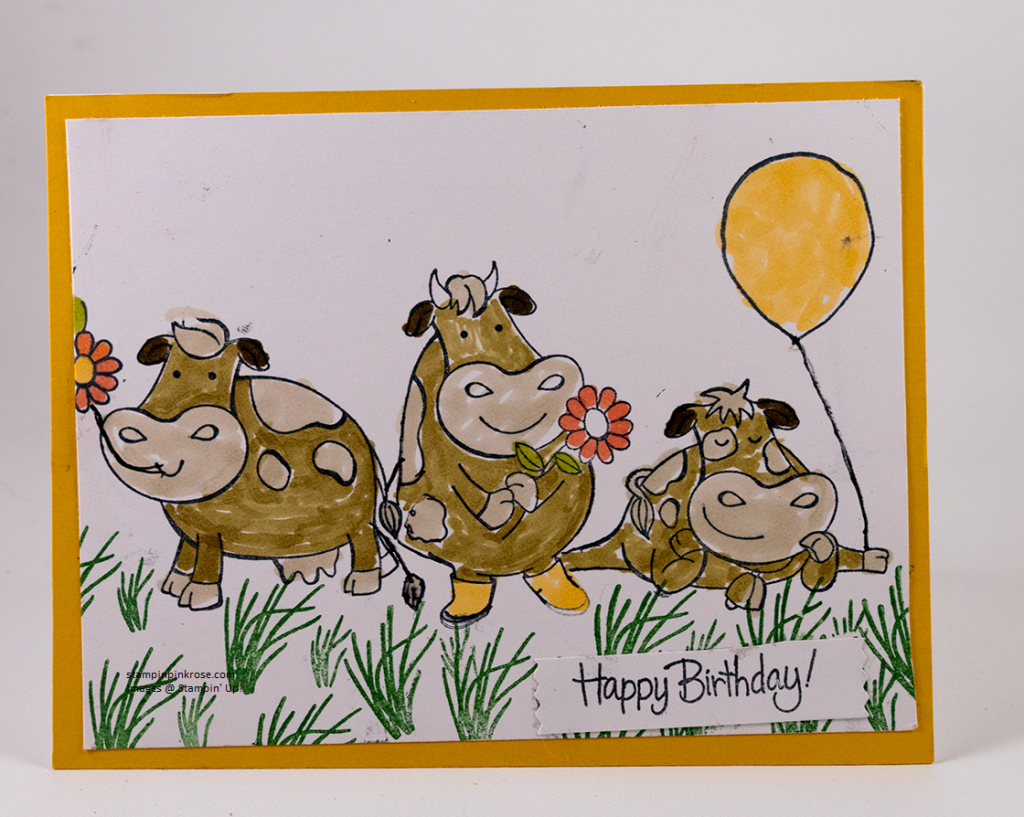 I just know you will be mooed by this stamp which resulted in me being mooed by this card.  It is surprisingly easy if you paid attention what I have been telling you to save the backing from the red rubber stamp set.  If you didn't shame on you.  You will need to stamp and cut each of the cows out to create your mask.
When you have your mask, then you will stamp in Memento Black Ink each of the cows. Notice each cow is over lapping.  Then it is a matter of coloring each cow with the Blends.  Add the balloon and the grass, and you are done.  I used the Balloon from Balloon Celebration which is retired for the balloon and words.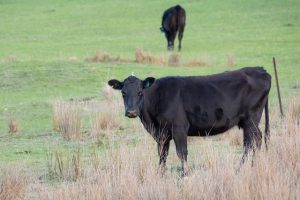 I don't know what kind of cows you would call them, but they are not Hereford or Black Angus.  Those were the type of cows down at the ranch.  I managed to get a photo of the Black Angus. In case you are wondering Hereford are solid brown.  Anyway, I have a great story Mary Ann told me the other day and I busted out laughing. I know Ed did not think it was funny.  Ed's Dad went into town one morning and returned to the ranch. He came in complaining about having trouble getting in the driveway.  Ed was busy on the computer working as he is a Global Manager.  He was not happy about being interrupted, but his dad insisted their was a problem and it was not the dogs.  There were 25 Angus cattle in the front yard with a bull trying to do his thing with the ladies. Ed had to round up the cattle and put them back in the pen. He then checked to see how they got out, but there were no openings.  So he headed down the road and ran into another rancher, who asked if he had seen 25 Angus cattle plus a bull. This is an elderly man who had to call his son home from work to get the cattle.  Ed was glad he had not put them in with his Angus cattle. I am glad my days are a lot quieter than that.
Spotlight on a Stamp
Color Combination:  These are the challenge colors. Rules below this post.
Crumb Cake
Soft Suede
Garden Green
Stamp Set: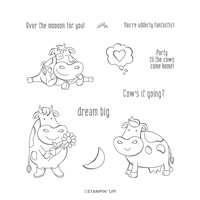 Over the Moon  #149331 Shop Now
Piece of Cake (words)
Ink:  Note that you will need your Black Marker to draw the string.
Memento Black
Garden Green
Blends:
Crumb Cake
Soft Suede
Calypso Coral
So Saffron
Paper: Remember I always use Whisper White as my base.
Accessories:
Challenge Rules:
Create a card or a project using those colors.  Send me your photo and paragraph by Noon CST on Friday.  Please no linkage to your personal information.  I will give credit by placing your name in the post.  All post show up on Saturday as an extra post. My email is pamela@stampinpinkrose.com
Quick Links
DBWS   http://www.stampinup.net/esuite/home/pinkrose/events
Need to order Online Store https://www.stampinup.com/ecweb/default.aspx
For Free Catalog https://stampinpinkrose.com/catalog-re
Join my team  http://www.stampinup.net/esuite/home/pinkrose/jointhefun
Questions http://pamela@stampinpinkrose.com
Pinterest https://www.pinterest.com/stampinpinkrose
Youtube https://www.youtube.com/channel/UCiKnvPZ8Le3aWHzHslRWw0g/videos?