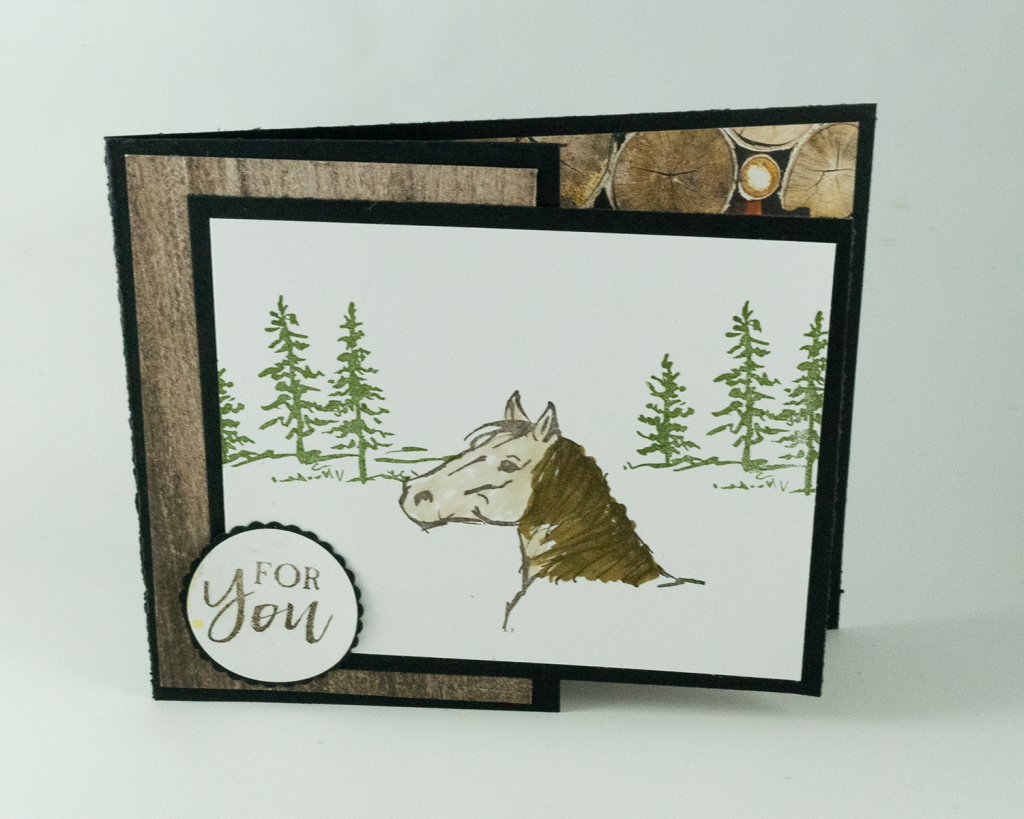 Well, it is Friday and this must mean a card fold.  Did you get a hint what stamp set I am using?  It is Let It Ride and yes it made it into the 2019-2020 Annual Catalog.  So you horse lovers can breathe a sigh of relief (maybe a neigh).  However, the Designer Series Paper  I used didn't make it in. So the Texture Wood paper is retiring.  This is one I have been stocking up and you need to grab it today as it will sell out quickly.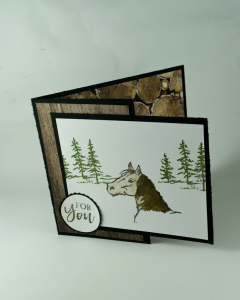 I found this card very easy to make and I would call it Clean and Simple. Don't you just those easy cards.  I had mine made in less than 15 minutes.  Here is the Card Fold Video.
The measurements for this card are:
Card Base (Sold Colored Cardstock) 4 1/4″ x 5 1/2″  Score at 3″
Panel on Front    Wood Texture or Print 2 3/4″ x 4″
Inside of Card 4″ x 5″  Wood Texture, Print, or White cardstock
Outside Flap 4 1/4″ x 3 1/2″  Sold Colored Cardstock
Panel for on top of the Flap  4″ x 3 1/4″
I used Let It Ride for the stamp set.  You can order your supplies by clicking here https://www.stampinup.com/ecweb/default.aspx
Stampin' Pink Rose News
I think I have Facebook Live finally figured out.   So I am going to redo my Thursday Facebook Live on Monday, April 22nd at 4:15 CST. However, because this is Easter Weekend I feel a lot of people will be busy with family.  So if you missed my Facebook Live on Thursday or want to see the corrected version turn in.  I will be the One Sheet Wonder on my blog post that day.
Also,  I will have samples my Brusho cards in my Tuesday newsletter. So make sure you subscribe to the newsletter.
Happy Easter
Quick Links
DBWS  http://www.stampinup.net/esuite/home/pinkrose/events
Need to order Online Store https://www.stampinup.com/ecweb/default.aspx
For Free Catalog https://stampinpinkrose.com/catalog-re
Join my team  http://www.stampinup.net/esuite/home/pinkrose/jointhefun
Questions http://[email protected]
Pinterest https://www.pinterest.com/stampinpinkrose