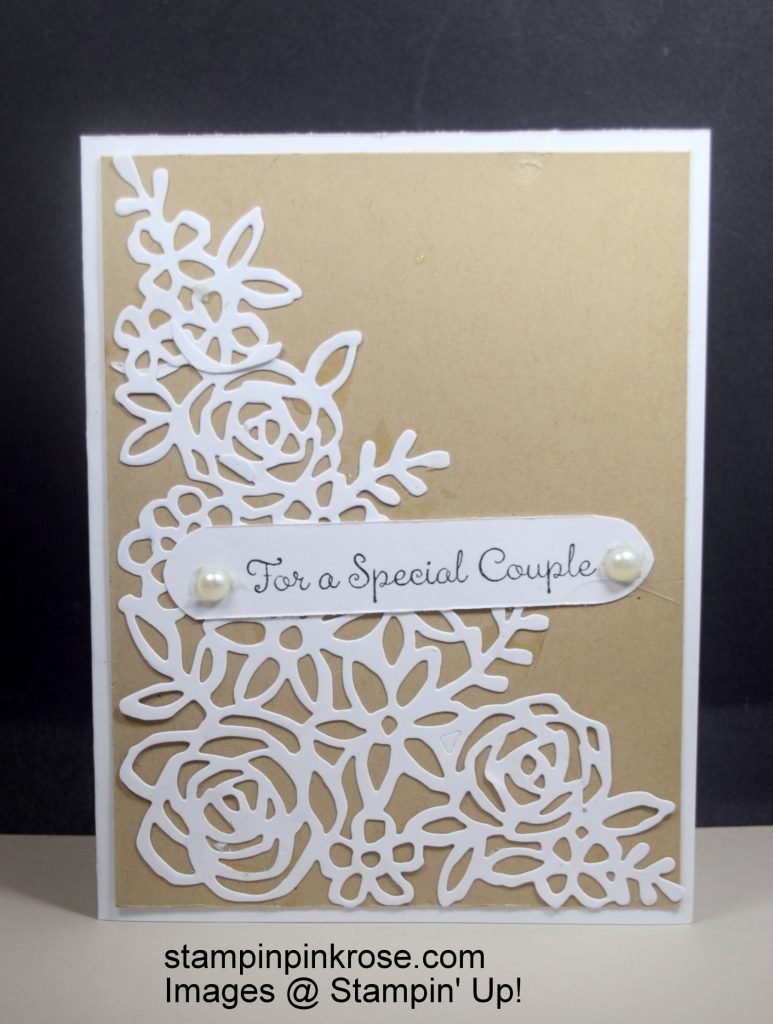 June is wedding month and you will need a special card for this occasion.  This card is beautiful but easy to make with your Magnetic Platform and Big Shot.  I used Springtime Impressions Thinlits Dies to cut it out.  You will love this set as it replaces our retired butterflies.
The greeting came from Special Celebrations.  A wonderful set that gives you choices for a variety of occasions.
Don't forget to check out all the exciting news.  I have been working hard over here to help you enjoy stamping.  In fact, I just got a big box in with new products and more new colors.  This includes most of the Designer Series Paper and all of the new color cardstock.  So you will many exciting new ideas in the upcoming weeks.  I still need some reinkers and ribbon.  I understand the new Blend Colors may be available around the 15th.  We will see.
Spotlight on a Stamp
Color Combination:
Stamp Set:
Ink:  
Paper: Remember I always use Whisper White as my base.
Embellishment:  What embellishment do you like to use?
Accessories:
Trimmer
Detailed Trio Punch (I forgot to include it below)
Stampin Pink Rose News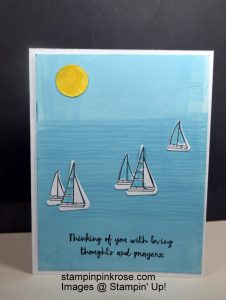 Welcome to my Online Classes.  I know you will find them helpful and very informative.  Each class comes with a PDF and video, but this is not all.  Within the class, you will receive a PDF and a step by step video for each card/project.  I will have 4 cards/projects in each class plus additional photos for ideas. Some classes will have a technique in them which is the case for my first Online Class.  Here is a sneak peek of a card in the first class Lillypad.  I will not be showing every card/project in that class.  You will need to click both buttons to be enrolled and receive your material.  Remember there will always be an Early Bird Special which will allow you to save.  Please join me for the first card project, I know it will be helpful.  Here is the sign-up form.  You will need to click both buttons. One is to sign up and another to pay.  Remember Early Bird Special ends June 13th.  After that please select the Regular Drop.   
You will find all classes as I add them to this link https://stampinpinkrose.com/online-classes New classes will first on the classes.
Color Revamp
Here is a special announcement about my new Color Club. It will make it easy to get the new colors. There are 16 new colors plus 5 new In Colors.  In the Spring I helped a lot of people to slowly acquire the Blends. I am doing a similar thing without the in-person classes.   I am leaving up to you to choose the new colors you want.    Here are the details:
it last 4 months which means 4 colors per month
make a minimum purchase of $42 with the new colors (you can add anything else to the order)
place your order by the 15th of the month
at the end of 4 months, you will receive a $20 credit on anything you want
once a month a Private Facebook group with special projects to replace the in-person classes (includes Prizes, permanent access to this group)
you will have an opportunity share and post your ideas
Now is the time to join!  Click here
Please ignore the 2 blank boxes beside
Quick Links
DBWS    http://www.stampinup.net/esuite/home/pinkrose/events
Need to order Online Store https://www.stampinup.com/ecweb/default.aspx
For Free Catalog https://stampinpinkrose.com/catalog-re
Join my team  http://www.stampinup.net/esuite/home/pinkrose/jointhefun
Questions http://[email protected]
Pinterest https://www.pinterest.com/stampinpinkrose
365 Day Challenge
The 365 Day Challenge has started. To participate you need to make a comment about that day's post.  You will be entered into a drawing to receive that card in the post.  I will announce the winner the next day and you can email me your address. This is not the end of the Challenge. Each month all entries will be entered into a monthly drawing for an embellishment.  Note: If you make a comment you are entered into the drawing.  I announce that winner on the first of the month. So have fun!