There is a lot of news plus the technique video, but before we get to it I apologize for not sending it out yesterday.  I was gone all day and when I got home the sirens sounded all evening.  We had storms until late last night.  I didn't want to record with sirens going off. By way, we are fine.
I am going to start with some of the news and you will be able to read more after the videos.  The first video is a special announcement on the subject of Online Classes.  They are back and better than ever.  Watch the video to see why. Then check all the details after the technique video.
Here is the technique video and I think it is very interesting.  You are all Stampin' Up! orderers.  So what comes in your box that you don't use?  Bubble Wrap.  Have you thought of using it on a card? Watch and see how easy it is to create a unique card.
Online Classes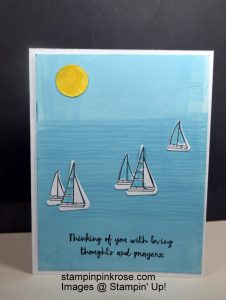 Welcome to my Online Classes.  I know you will find them helpful and very informative.  Each class comes with a PDF and video, but this is not all.  Within the class, you will receive a PDF and a step by step video for each card/project.  I will have 4 cards/projects in each class plus additional photos for ideas. Some classes will have a technique in them which is the case for my first Online Class.  Here is a sneak peek of a card in the first class Lillypad.  I will not be showing every card/project in that class.  You will need to click both buttons to be enrolled and receive your material.  Remember there will always be an Early Bird Special which will allow you to save.  Please join me for the first card project, I know it will be helpful.  Here is the sign-up form.  You will need to click both buttons. One is to sign up and another to pay.  Remember Early Bird Special ends June 13th.  After that please select the Regular Drop.