June is a busy month for a lot of you.  Some still have graduations, others have weddings to attend.  Then there is Father's Day in the middle.  So this stamp set will check all your boxes.  I am referring to Apron of Love.  Okay, you may not want it for a wedding, but it works for the bridal shower.  I had a Bridal Shower at my home yesterday and I made it for my future daughter-in-law's gift.  It was a framed wall hanging using the utensils in the Apron of Love.  Take a look at this project. I have included a photo of her card which was not Apron of Love below the post.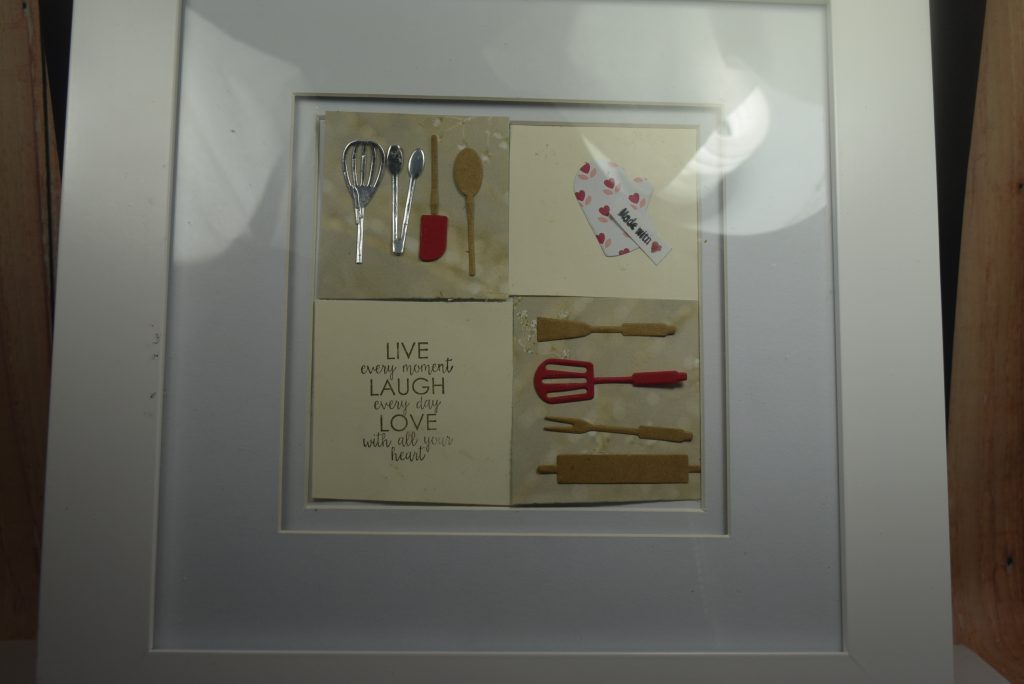 The words came from Ribbon of Hope.  You can order any of these at my Online Store. Just click here https://www.stampinup.com/ECWeb/product/145835/apron-of-love-photopolymer-stamp-set  Note that this set is no longer available as a bundle.
Then take this stamp set and think of Dad barbequing.  Picture him busy at the grill perfecting those ribs or hamburgers wearing his apron.  So why not create that perfect card using Apron of Love. Take a look at this card.  All you need to do is change the greeting to Happy Father's Day.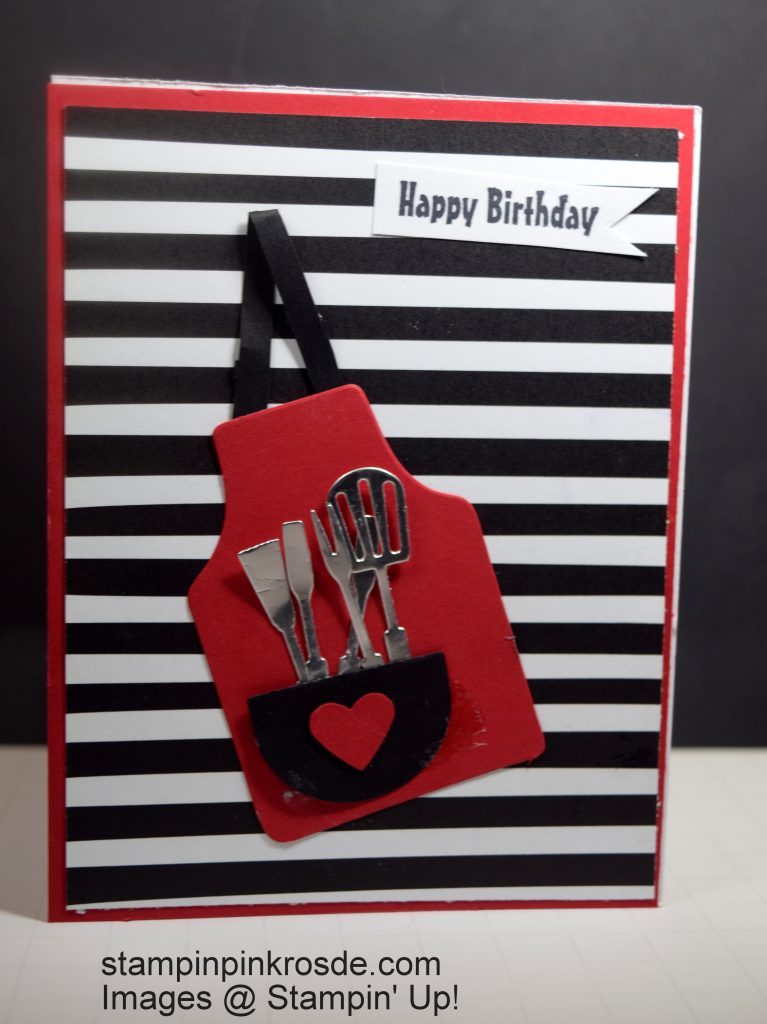 I know this is a leap for graduation, but maybe the card would work for that future chef.  So if you have someone graduating from Culinary School or headed to Culinary School after high school graduation maybe this set would work.
So all I can say is have fun with this stamp set!
In the News
Tuesday is a special day….. my monthly newsletter goes out with more exciting news.  I have already unveiled the Color Revamp Club.  Please read below for more details.  For the newsletter make sure you are signed up for it.  https://forms.aweber.com/form/92/498832292.htm
Here is a special announcement about my new Color Club. It will make it easy to get the new colors. There are 16 new colors plus 5 new In Colors.  In the Spring I helped a lot of people to slowly acquire the Blends. I am doing a similar thing without the in-person classes.  Here are the details:
it last 4 months which means 4 colors per month
make a minimum purchase of $42 with the new colors (you can add anything else to the order)
place your order by the 15th of the month
at the end of 4 months, you will receive a $20 credit on anything you want
once a month a Private Facebook group with special projects to replace the in-person classes (includes Prizes, permanent access to this group)
you will have an opportunity share and post your ideas
Early Bird Special  Sign up by June 8th and you will get 4 cards of my choice mailed to you.  These cards will use the new colors and the stamp set I use will be random.
Color Revamp Form
By the way, if you don't have a hard copy of new Stampin' Up! Annual Catalog you are missing a lot.  You can click here to request own copy with a special gift.  Click for your personal FREE copy https://stampinpinkrose.com/catalog-re
Bonus Card
Here is the bridal shower card was done with punches.  I know you are looking at that card and thinking fishes!  Her theme is beachy which means the table decoration at the wedding will be sand and seashells. The punch I used was the retired ornament punch and retired Bird Builder punch.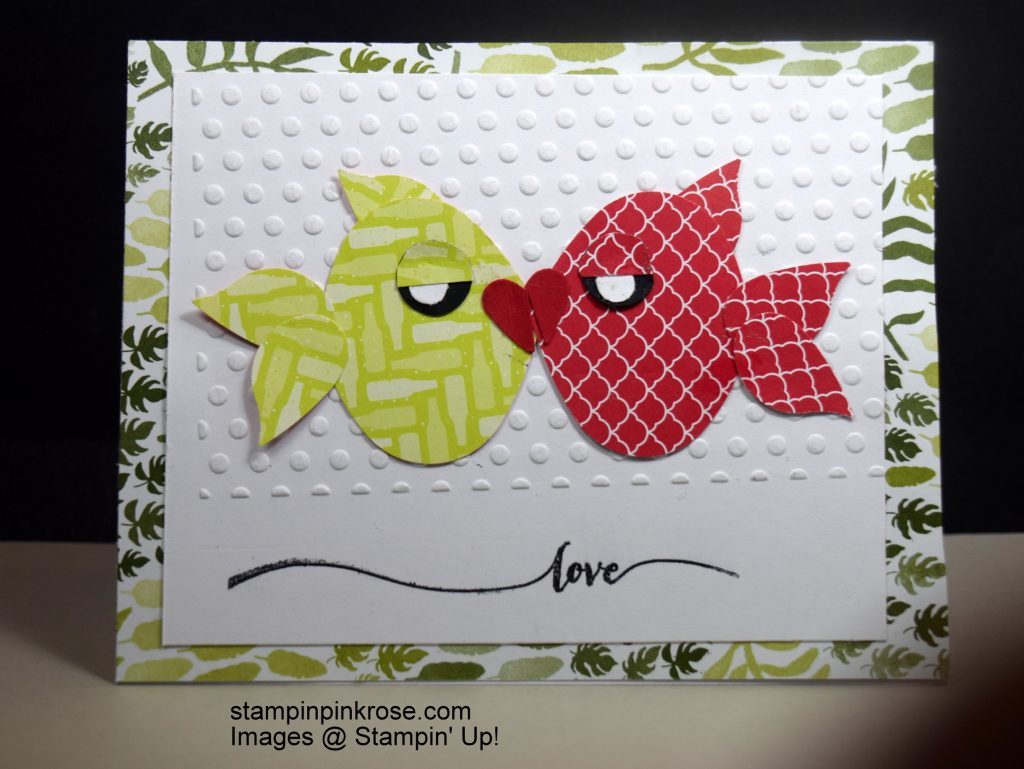 By the way, the word "love" came from the retired Hello Life stamp set.   She got a kick out of the inside of the card because I used the words from Colorful Season "just breathe."  Remember getting ready for a wedding stressful.
Quick Links
DBWS   http://www.stampinup.net/esuite/home/pinkrose/events
Need to order Online Store https://www.stampinup.com/ecweb/default.aspx
For Free Catalog https://stampinpinkrose.com/catalog-re
Join my team  http://www.stampinup.net/esuite/home/pinkrose/jointhefun
Questions http://[email protected]
Pinterest https://www.pinterest.com/stampinpinkrose
Newsletter https://forms.aweber.com/form/92/498832292.htm