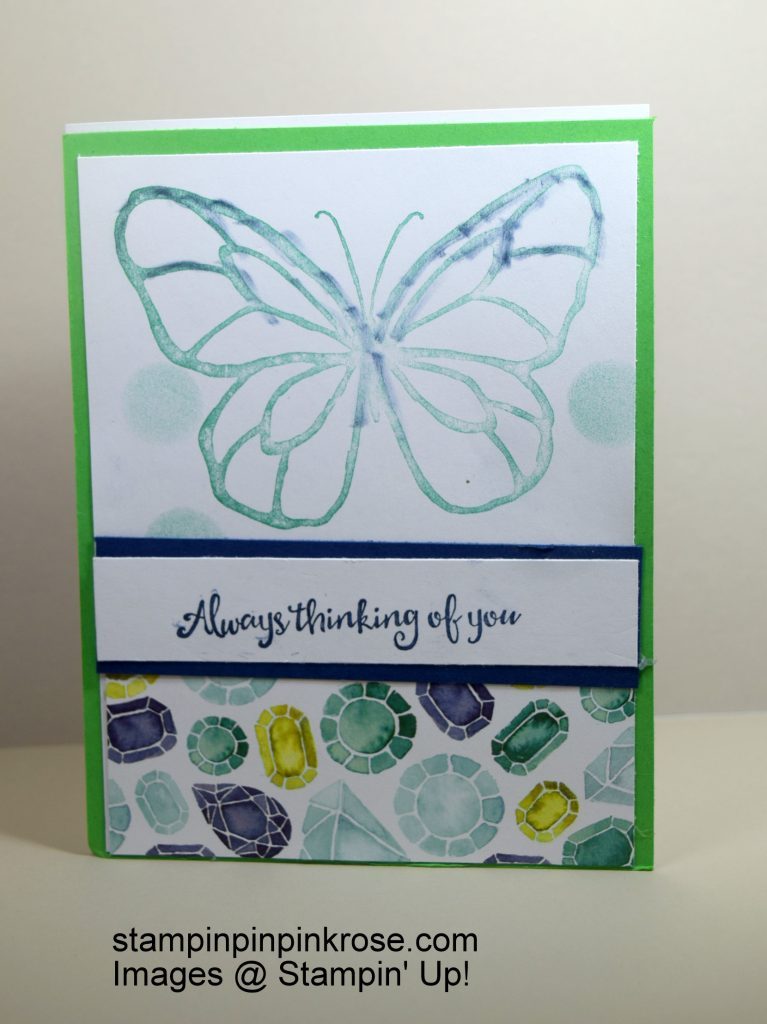 Last weekend I attended OnStage in Milwaukee and it was fabulous for a variety of reasons.  We get to see the new products and receive the new catalog ahead of non demonstrators. Plus we always get free product.  I came home with a bag they gave us and the free products.  On top of this we get to see old friends and meet new ones.  Have you thought what the best part of Stampin' Up! is?  I think it is sharing. I did quite a few swaps.  The card I am sharing today is one of my swap cards that I shared with fellow demonstrators.
By the way we get to order some of the new items ahead of time. It is called a preorder. I just checked and my preorder is on the way. I will be sharing some of these products the first of May.  Don't forget to request your FREE Catalog by clicking here  https://stampinpinkrose.com/catalog-request   You will find a FREE card in your package. More goodies come with your $50 order.
If you want more join my team and get great benefits like free nonpublished PDFs for you to use as you want.  Click here to see the details about becoming a Stampin' Up! Demonstrator. http://www.stampinup.net/esuite/home/pinkrose/jointhefun  Then you could join me in Orlando for OnStage.  It is our 30th Anniversary and will be one hectic of a party.
Don't forget to checkout the retirement list.  https://bit.ly/2v1zQpm
Spotlight on a Stamp
Color Combination:
Bermuda Bay
Night of Navy
Stamp Set:  This will be in the new catalog. You can click here for other items in my online store https://www.stampinup.com/ecweb/Default.aspx
Ink:  
Bermuda Bay
Night of Navy
Paper: Remember I always use Whisper White as my base.
Whisper White
 Night of Navy
Emerald Green
Designer Series Paper:  
Accessories:
Become a Rose Bud
Sign up for my newsletter and receive a FREE gift plus PDF every week.
Delivered to your inbox every Tuesday.  You won't miss any exciting news and ideas.
Do you want it all with a discount?   Then join my team!  I'll help you save as a hobby demonstrator or give you pointers on growing your new business!
Order a 2016-2017 Stampin' Up! catalog by clicking here https://stampinpinkrose.com/catalog-request
Challenge News
I want you to participate in my post.  It is called 365 Day Challenge.  To participate you need to make a comment about that day's post.  You will be entered into a drawing to receive that card in the post.  I will announce the winner the next day and you can email me your address. This is not the end of the Challenge. Each month all entries will be entered into a monthly drawing for an embellishment.  Note: If you make a comment you are entered into the drawing.  I announce that winner on the first of the month. So have fun!  You can do it at the bottom of this post.
Quick Links
DBWS   http://www.stampinup.net/esuite/home/pinkrose/events
Need to order Online Store https://www.stampinup.com/ecweb/default.aspx
For Free Catalog https://stampinpinkrose.com/catalog-re
Join my team  http://www.stampinup.net/esuite/home/pinkrose/jointhefun
Questions http://[email protected]
Pinterest https://www.pinterest.com/stampinpinkrose