I find working on crafts is very relaxing and a way to utilize my creative particularly my cards.  I use to do crafts on a local television and create all kinds of home decorating projects, but I found my niche is to make simple cards that you can recreate. Card making is great year round, but particularly wonderful in the winter. For me, it has become more than a hobby.  So I pursue other activities such as photography.  This leads me to two questions. What is your hobby and have you been watching this great television program called Safari Live on National Geographic?  It has been fascinating to watch all the African wildlife as though you are out on Safari.  Tonight will the last one. I do hope you turn it on tonight.  I am so wanting to be there with my camera.  I have several cameras and various lens.  Photography has been my thing for over forty years. I used to develop all my film until the change to digital which makes it so much easier.  However, it has been a learning curve to get the photos just right so you can see the special cards I create for you.
The point of this is we all need to release our creative side.  So don't think of stamping as a hobby, but a way to use your creative side.  I would love to help you release your creative side and make new friends.  I have all kinds of classes (workshops) where we come to play.  So if you are in the Des Moines area join me for an event. If not I have Class in the Mail Monthly plus Facebook Live and my YouTube Videos which are two times a week.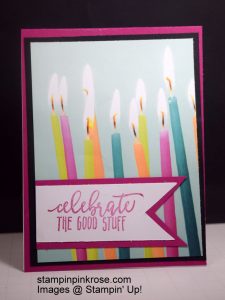 For those starting out or anyone that needs a quick card.  Think about using the Stampin' Up! Beautiful Designer Series Paper as a background.  No need to match color because it is listed on the package. You have choices of Bermuda Bay, Lemon Lime Twist, Pool Party among other colors to choose. I choose Berry Burst as one of the colors listed. Then simply wanted it to stand out so I use Black to draw the eye to the candles. Notice the banner greeting was followed by the predominate color… Berry Burst.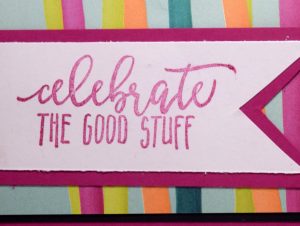 Spotlight on a Stamp
Color Combination:
Stamp Set:
Ink:
Paper: Remember I always use Whisper White as my base.
Designer Series Paper: 
Picture Perfect Designer Series Paper
Accessories:
Updates:
The Fast Fuse Sale is over.  It has sold out.
Class in the Mail is going on here is the details below for the Bubble Over stamp set.
Class fee includes the stamp set with project supplies, PDF file, private video link, and priority postage. If you own the "Bubble Over" stamp set but you still want the Class in the Mail? Just email me at [email protected] The cost is $34 and includes materials including precut pieces to make 4 cards. You will need to use your own Bubble Over Stamp Set plus your own ink and adhesives. Take a look at the project, but notice one is hinted because it is a surprise.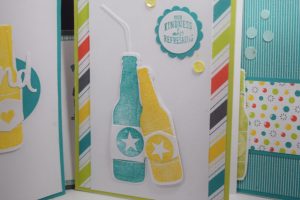 Order today by email so you don't miss the February 18th deadline.  It will be mailed out February 26th.  Just email me at I will send a PayPal invoice.