Are you wondering what all the buzz is about in Stampin' Up!?  It is the new Occasion's Catalog and Sale-a-bration Brochure.  It seems everytime Stampin' Up! brings out a new catalog they do one better. I don't how they do it except they have a very creative team.  Take a close look at this video and you will see what I mean.
I know a lot of you have the winter dull drums, but my Open House will cure it.  There will be 6 stations where you will make a card or project, but that is not all there will be a display of additional ideas at each station.  Take a look at this one.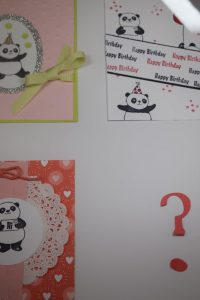 Best of all it is FREE! That is correct NO Charge!  Plus the weather people are predicting close to 40 degrees that day.  The snow will be gone and you can stop in and enjoy some stamping.  This is a perfect time to explore and try stamping. You can RSVP your spot with a FREE Gift and your packet will be waiting.  Of course, drop-ins are always welcome.  Please, no children so you and others can enjoy stamping.   It is 10 to 2 and you can find all the details below.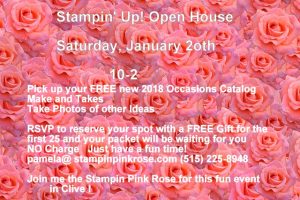 You can order your Free Catalog by clicking here https://stampinpinkrose.com/catalog-request  better yet come to my Open House and have some fun!
To reserve your spot with a FREE Gift click here now http://www.stampinup.net/esuite/home/pinkrose/events?id=1254523
Remember with every $50 you spend you get a FREE Item from the Sale-a-bration Brochure.  https://www.stampinup.com/ecweb/default.aspx
 See You at My Open House