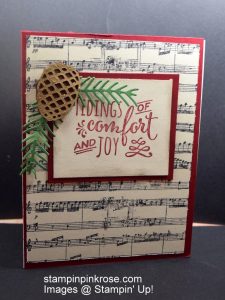 Will you be caroling for the holiday season?   I just love all the music for the Holiday Season.  I am always envious of those we can sing.  I can't carry a tune.  You know the questions asked of you if you had three wishes what would be yours.   One of my wishes would be to sing beautifully.  So if you can sing, then sing in the holidays.  Already you are wondering where this is going.  I used the Music Sheet stamp in the Annual Catalog.  It is one my go tos for background stamp.
Using that background you can choose your stamp set to make the perfect Christmas card.  So I went with a carryover in the Annual Catalog…Christmas Pines. It has beautiful words to choose from.  If you need another idea check out my Facebook page. https://www.facebook.com/stampinpinkrose/photos/a.835306279904546.1073741828.620259814742528/1223869307714906/?type=3&theater  Also, this is Challenge card and you can find more information below.
By the way, do you know what week this is with Stampin' Up!   It is Extravaganza  Week.  This is where you save up to 40% on stamp sets.  These are current stamps and not discounted.  So come and save on these items.  Plus today only there is 20%savings  that are part of the 24-hour sale.  Here is a list of the 24-hour sale items  https://www.stampinup.com/ECWeb/ItemList.aspx?categoryid=100051&utm_source=olo&utm_medium=o1-ad&utm_campaign=homepage-refresh    You need to check this out because we all love a bargain.
Spotlight on a Stamp
Color Combination:
Stamp Set:
Ink:  
Cherry Cobbler
Archival Black
Paper:
Very Vanilla
Garden Green
Cherry Cobbler
Soft Suede
Chocolate Chip
Accessories:
Trimmer
Big Shot
Pretty Pines Thinlits
Challenge:
Can you figure which elements I used? Hint Elegant is here.  https://tictactoechallenge.com/   To me elegant is in the eyes of the beholder.