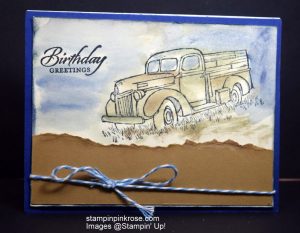 Okay, don't go there.  I am not referring to a pick line, but that old pickup that sat out in the back forty on my grandfather's farm.  Stampin' Up! has ways to bring back those old memories.  They seem to be doing that a lot lately.  Anyway, I used the pickup from Country Livin stamp set. It looks like one from the late forties.  I did this one in blues with gray tones. The one I remember was red and not a bright red. It makes a perfect masculine card. Notice I tore some Crumb Cake card stock to give a rough edge. The background was meant to give stormy sky look.  This stamp is not retiring so I will be using it more often as there is a pair of boots I have not used.
This card will be part of the International Blog Highlights challenge which was to create a masculine card. Do you have a favorite masculine stamp set?
Here is the link for the International Highlight Blog  http://www.craftykylie.com/2017/05/kylies-international-blog-highlights.html  However, it is not scheduled to go live until Tuesday, May 16th 5 o'clock pm Central time.   This is because there is a time difference with Australia.
Tips and Tricks
Color Combination: This is a blending of colors.
Stamp Set:  Need a masculine card?
Ink:  If you are using blues, you may want to stay in the same color family to stamp the words and the truck.  However, you need to blend other colors that will give the effect that you want.  A neutral shade such as Sahara Sand help to age the truck.
Night of Navy(126970)
Marina Mist (126962)
Sahara Sand (126976)
Paper:  Stay to the earthy tones and nature's beauty.
Night of Navy (100867)
Very Vanilla (101650)
Crumb Cake (120953)
Embellishment:  I felt the bottom of the card needed something on the Crumb Cake card stock.  So added some Baker's Twine that I had in my draw.   You could use Night of Navy.
Accessories:  
Sponges to add color (141337)
Trimmer (126889)
Become a Rose Bud
Sign up for my newsletter and receive a FREE gift plus PDF every week.
Delivered to your inbox every Tuesday.  You won't miss any exciting news and ideas.
Do you want it all with a discount?   Then join my team!  I'll help you save as a hobby demonstrator or give you pointers on growing your new business!
Order a 2016-2017 Stampin' Up! catalog by clicking here https://stampinpinkrose.com/catalog-request
Updates