What does every birthday need beside candles?  Cake or a cupcake.  Today the popular thing is the gourmet cupcakes such an Oreo or peanut butter.   Sad to say no gourmet here, but I think it still looks pretty delicious.  We have a few cupcake stamps. So do you know which one this came from?  Sprinkles of Life.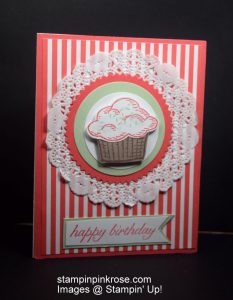 This is a challenge card today for Global Design Project.  The requirement was something sweet.  So I could have used Cool Treats but decided a cupcake instead.  However, I felt it needed to be dressed up a little bit.  So I decided to frame it. You know you don't need fancy circles?  Plain colored circles will make the cupcake stand out, but I added a lace doily to make it special.  This card design is one I like to call it a concept card. That means you can use whatever paper and color you want.  To see the wonderful ideas on Global Design Project click here http://www.global-design-project.com/
Tips and Tricks
Color Combination:  I am using a retiring color that I like. However, this design can be used with any color you want.
Watermelon Wonder (retiring)
Soft Suede
Early Espresso
Stamp Set:   These stamp sets are not retiring.  You will find it in the new 2017-2018 Annual Catalog.
Sprinkle of Life (139971)
Birthday Blossoms  words (139471)
Ink:  I used the Watermelon Wonder because it tied with the paper. So find your paper then tie it with your ink.
Watermelon Wonder (retiring)
Soft Suede
Early Espresso
Paper:  My base is always Whisper White because it makes it easy to stamp inside and be seen.
Whisper White
Watermelon Wonder (retiring)
Crumb Cake or Soft Suede
Mint Macaron (retiring) suggestion Crushed Curry
Designer Series Paper:  Find a pattern you like, but make sure it is not too busy to distract from the cupcake.
Envelope Striped Paper (retired), but other styles/colors available until May 31st. May suggest Fruit Stand has a Watermelon Wonder striped paper.
Embellishment:  Embellishment is a product that is used once.  Ex. ribbon, doily, etc.  It is an accent piece.
Accessories:   An accessory helps to make the project.
Tree Builder Punch
Trimmer
Note: For the banner, I simply cut the ends myself.
Become a Rose Bud
Sign up for my newsletter and receive a FREE gift plus PDF every week.
Delivered to your inbox every Tuesday.  You won't miss any exciting news and ideas.
Do you want it all with a discount?   Then join my team!  I'll help you save as a hobby demonstrator or give you pointers on growing your new business!
Order a 2016-2017 Stampin' Up! catalog by clicking here https://stampinpinkrose.com/catalog-request
Updates