Paper Players is out with another challenge.  This challenge is requiring Mint Macaron, Perfect Plum, and Sahara Sand.  So I am using so returning products and some that are not.  You've Got This and Better Together stamp sets are not retiring.  Along with Butterflies Thinlits. However, Perpetual Birthday Calendar and Falling Petals are leaving us.  Two of the colors. … Perfect Plum and Sahara Sand are returning, but we will miss Mint Macaron.
I did this card as a Sympathy card as I always feel we are short on these type of cards.  The Mint Macaron offers a smoothing effect. However, you can easily use it for a wide variety of occasions including Mother's Day.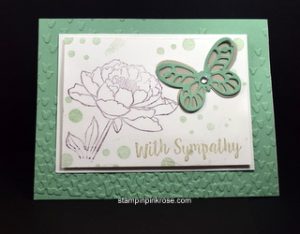 Tips and Tricks
Color:  With Sympathy cards you need colors that work well together and give a calming effect. This is why Mint Macaron is so dear to my heart. It is also a neutral color for babies.
Stamp Set: As a reference above this card uses a mixture of stamp sets which tie the colors together.
You've Got This
Perpetual Calendar
Better Together (words)
Ink:  I was able to use all of the ink colors. Again, this keeps everything in balance and tied together.
Mint Macaron
Perfect Plum
Sahara Sand
Paper:   Now is when you don't want to over do it in your paper colors.  Your focal is your flower and butterfly.To make that your focal use Whisper White so as not to distract.
Whisper White
Mint Macaron
Embellishment: The butterfly I feel always needs something in the middle. It is your choice pearls or rhinestones.
Accessories:  
Falling Petals Embossing Folder
Big Shot
Buterflies Thinlits
Watch For More
There is always more blooming in my flower garden and you can have continual blooms if you order Stampin' Up! products.  Right now is a great time to take advantage of the retired products.  Here is a link to them https://www.stampinup.com/ecweb/categorypage.aspx?categoryid=10100&utm_source=olo&utm_medium=o1-ad&utm_campaign=new-olo-homepage  You can save up to 50% off on some items, but remember when they are got…….they are got forever. I would love to help you enjoy Stampin' Up! products.  You can order right on the link above. Don't forget by checking out the retirement ones you will know what is in the new catalog.
In my book some retirement items are worthwhile to have in your craft room.
I want to invite you
Challenge:  Paper Players click here http://thepaperplayers.blogspot.co.uk/2017/04/there-is-still-time-to-play-in_12.html