Here is another retirement stamp. We are losing Oh So Succulent stamp set and framelit.  I thought it was so sweet the flowers and would be a perfect Mother's Day card.  This set has everything we need to make mother smile.   In fact this card would work for a birthday too.  Because it has the words Happy Mother's Day words, I will probably not get rid of this stamp as of now I don't have a replacement for it.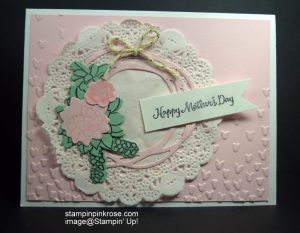 Adding a doily makes it even more sweet because it gives the effect of delicate look. To add interest, emboss your card stock with an embossing folder.  The Falling Petals Embossing Folder is retiring.  If you look close at it, it looks like hearts. What embossing folder will you miss?  I am always sorry to see some go away, but excited for the news.
Tips and Tricks
Colors:  I choose one of my favorite colors, the a soft pink called Blushing Bride with the Mint Macaron.  By the way that color will be leaving us.  Mint Macaron was one of my favorite colors because it was a great go to color. I thought of it as a neutral color because of using them for baby cards.
Blushing Bride
Mint Macaron
Stamp Set:  We always have great flower stamps to choose from. Some are small and others large.  It is great to have the variety like we have in our gardens.  The Swirly Bird makes a  perfect wreath. Can't you picture it hanging on your door?
Oh So Succulent
Swirl Bird
Ink:
Blushing Bride
Archival Black
Paper: With high quality card stock from Stampin' Up!, your receiver will know you care. There is a difference in card stock.
Blushing Bride
Mint Macaron
Whisper White
Embellishment:  I often think what would my card look like with the embellishment.  The answer is rather plain and would lack interest. So don't forget the embellishment. No matter how small it is.
Delicate White Dollies
Gold Baker's Twine -retired
Accessories: Big Shot, Falling Petals Embossing Folder, Trimmer
Become a Rose Bud
Sign up for my newsletter and receive a FREE gift plus PDF every week.
Delivered to your inbox every Tuesday.  You won't miss any exciting news and ideas.
Do you want it all with a discount?   Then join my team!  I'll help you save as a hobby demonstrator or give you pointers on growing your new business!
Order a 2016-2017 Stampin' Up! catalog by clicking here https://stampinpinkrose.com/catalog-request
Watch For More
As you know that the Retirement List is out, but did you new Stampin' Up! items are around the corner. You can get the new 2017-2018 Catalog my email me now. I am offering a free catalog today only. I will have a catalog sent out to you in May.
Next week I will showcasing some of the new Stampin' Up! products along with some items that are returning.  You don't want to miss this exciting preview.  If you would like your free catalog email me today athttp://[email protected]
Become a Rose Bud
Sign up for my newsletter and receive a FREE gift plus PDF every week.
Delivered to your inbox every Tuesday.  You won't miss any exciting news and ideas.
Do you want it all with a discount?   Then join my team!  I'll help you save as a hobby demonstrator or give you pointers on growing your new business!
Order a 2016-2017 Stampin' Up! catalog by clicking here https://stampinpinkrose.com/catalog-request