No I am not retiring, but some Stampin' Up! products are retiring.  So you need to check them out.  On second thought check them twice so you don't miss anything.  I will give you the link so you can print it, but before you it preoccupied.  I have a card to show you and yes this stamp  is retiring.  You can still get in the Occasions catalog till May 31st.  I just love the rocking horse.  So in honor of my new grandson due this summer…here is a baby card.
Before we get to the card, I want to tell you the wonderful time I had in Minneapolis with OnStage.  I was a Display Stamper.  Here is a picture of my display.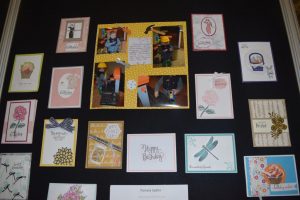 Retirement List available here file:///C:/Users/Sadler/Documents/Retiring%20Stamps%202017.html
Bundles https://www.stampinup.com/ECWeb/ItemList.aspx?categoryID=10102
Everything Else  https://www.stampinup.com/ECWeb/ItemList.aspx?categoryid=10103
I learned a lot of great ideas I will sharing over the next few weeks. Also, I met a lot of great Stampin' Up! Demonstrators and swap cards with them.  I will be showing these periodically on my blog.  However, the most exciting thing was getting the 2017-2018 Annual Catalog.  I want you think about joining Stampin' Up! as a Demonstrator so you can join me in November. It will be sooner than we think.
Tips and Tricks
Color:  I used gray and brown with just a touch of color in Flirty Flamingo. So this card will be perfect whether it is a boy or girl.
Stamp Set: Little Cutties as so many cute little friends for different occasions. If you have an animal lover, you don't want to miss this retiring stamp set.
Ink:  What color do you think of for a horse? Brown, black, gray.  I chose gray because I wanted to keep it light.
Smoky Slate
Early Espresso
Flirty Flamingo
Tempting Turquiose
Paper:  Tie your card together with your colors.
Flirty Flamingo
Whisper White
Designer Series Paper:   Find a color in your pattern Designer Paper and tie together. With the browns it is fairly easy. The dotted is from the Neutrals, but the pattern behind is a retired piece that I liked the looks of with the horse.
Neutral Designer Series Paper
Accessories: Blender Pens, Trimmer
Swap Card using Cookie Cutter from Linda Hartwich