Do the you find it hard to create birthday cards for teenagers?  If yes, take a second look at Custom Tee stamp set and framelit.  This set can take you in so many directions.  It doesn't have to be a for a teenager. It could be for any age or sex.  So consider this as a unisex set. Just perfect for your collection of stamps. I have the girl birthday card here and I will post the boy birthday card on my Facebook. https://www.facebook.com/stampinpinkrose/photos/a.835306279904546.1073741828.620259814742528/1029663007135538/?type=3&theater
What is nice about this design is that it can work with a wide variety of designer paper.  I pulled out some leftover paper and it have been scrap paper. It is always great to use up all the small pieces.  On this card I used the retired Birthday Party Designer paper. I loved this paper so much that I bought extra. This ia great time to look at the Stampin' Up! Designer and  pick the ones you love.  In April the retirement list will come out and these items go fast. Right now you can get a FREE item with every $50 which expires March 31st.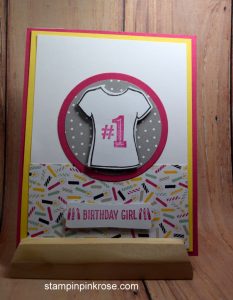 Here is a sneak peek at the technique video for tomorrow.  If you have not subscribed to my newsletter then you are missing the technique cards that go with Wednesdays video. You can subscribe to it below this post.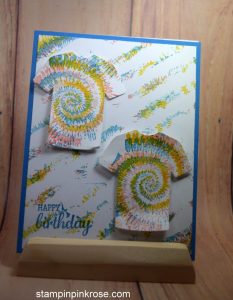 Tips and Tricks
Stamp Set: This stamp comes with tons of pieces which allow many choices on your design.  The shirts come in two sizes and a tank top which is perfect for a sport top.  Then there is the piece to dress up love for a wedding. You can even put a collar on.  Best of all this comes in a bundle which you save 10% and makes it easy to cut.
Color:  For this card I used Melon Mambo which was listed on the paper pak. It so great that Stampin' Up! list the colors on the Designer Series Paper.  It takes the guess work out.
Ink:  Melon Mambo, Archival Black
Paper: Just follow the colors on the package and use what ties to the paper.  I usually start with darkest color which in this case is the brightest. Then add the lightest color (yellow) and follow with your white.  Then all you need to do is decorate.
Melon Mambo
Daffodil Delight
Whisper White
Designer Series Paper: It's My Party (retired), Subtle (dots in Tip Top Taupe)
Embellishment: Diminsionals
Accessories: Modern Label, Layering Circles, Big Shot, Trimmer