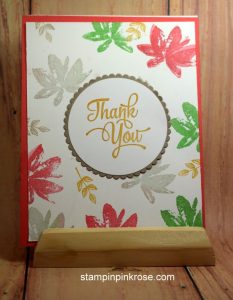 As we return from Spring Break  and are ready to get back in the swing of it, it ius time to start the countdown.  Sale-a-Bration is coming to an end and retiring colors is around the corner.  S0 we need to look at our supplies and think of what we need.  We are in the last two weeks of Sale-a-Bration and nearing the retirement of  2015-2017 colors. So this is a great time to grab those items such as reinkers, ribbon, and card stock.   Your benefit is two fold because in April they will go quickly and now you can get free product with every $50 you spend including those latest releases plus you will have those retired items.  I have already done mine.  So order yours today becaue the FREEBEES end March 31st!
Here are the reitring colors.
Which of the retiring colors are you going to miss?  Please answer the survey below.  I will give you the answer later this week.
Create your own user feedback survey
The card today uses all the retiring colors and one of the free stamp sets.   I am going to miss this stamp set… Avant Garden as it has such beautiful flowers and is easy to stamp. If you stamps to work with Clean and Simple, this is the one for you.
Oh by the way the greeting was from One Big Meaning.  Also, I want to remind you to always check my Facebook page and Pinterest for post of different cards. Facebook had two challenge cards go up over the last few days and Pinterest pins go up daily.  So if you are not checking these places you are missing a ton of ideas. In fact I just posted another card using the Avant Garden on Facebook  https://www.facebook.com/stampinpinkrose