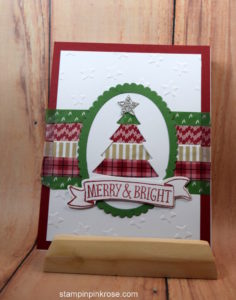 I have a great simple card using Washi tape,   but before I do it I need to explain something.  Some of you saw yesterday's post and then it disappeared.  About 4 o'clock the serve went down and did not reappear until after 10 o'clock last night.  Anything I did not my blog between Sunday and up to the 4 o'clock time was gone and could not be recovered.  So I am having to retype yesterday's blog.  I like everyone else, I have a lot going on.  So the newsletter may go out today or tomorrow.  You will still receive the Twelve Weeks of Christmas on Wednesday.  There will be no blog post on Wednesday.  The blog post will resume on Monday.
I want everyone to have a great Thanksgiving.  The Online Stampin' Up! Extravaganza continues all week with great savings.  Here is a link for it https://www.stampinup.com/ecweb/default.aspx                If you need any help with your shopping, email me as I will check it from time to time.  Don't forget to give your Stampin' Up! Wish List to family and friends which is available under Shopping.  https://stampinpinkrose.com/wish-list .  Tell  them all they have to do is contact me and I will do the rest. There are Gift Certificates available under Shopping.
Now for the post that went missing yesterday.  I used the Warmth and Cheer Washi Tape to create this colorful tree. I think this is one of my favorite cards. I love how the tree stands out.
Base: Cherry Cobbler
Focus:  Christmas Tree
Tips
Stamp Set:  Stitched with Cheer
Color Combination:  Cherry Cobbler, Garden Green
Ink: Cherry Cobbler
Paper:  Cherry Cobbler, Garden Green, Whisper White
Designer Series Paper: Silver Glimmer
Embellishment: Warmth and Cheer Washi Tape
Accessories:  Layering Ovals, Bunch of Banners, Lucky Stars Embossing Folder, Big Shot, Trimmer, Stars Framelit*
*smallest star