As you know from last week's news, my preorder had arrived with the new colors. I have started to play with these spectacular colors and the paper that coordinates with them.  Stampin' Up! always has unique names for their colors. The 2016-2017 colors are no exception.  So here are names of the new colors Denim Dapper, Emerald Envy, Flirty Flamingo, Peekaboo Peach, and Sweet Sugarplum.  I just know you are going to fall in love with them like I have.  No I don't have a favorite yet.  So you can click here to get your own catalog https://stampinpinkrose.com/catalog-request .  Also, don't forget about the retiring products including the 2014-2016 colors.  You need to get the rerinkers and the cardstock before it is gone.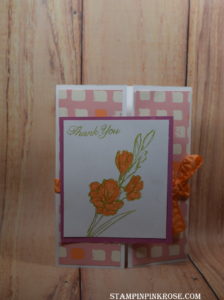 Now onto today's design which is from the new catalog.  You can order this June 1st.
Base: Gatefold card with a Whisper White cardstock and the new luscious designer paper.
Focus:  The beautiful flower from Gift of Love (Hostess) on a panel.  If you are wondering what kind of flower it is, the flower in Gift of Love is gladiolus.  This was a favorite flower of my mothers to arrange for her dining table centerpiece. Stampin' Up! has set this up as three step process by stamping the plant image and follow it with the flower and then the leaves.  You can earn this stamp when ordering other Stampin' Up! products as a reward.
Tips
Stamp Set:  Gift of Love
Color Combination:  Peekaboo Peach, Flirty Flamingo
Designer Series Paper: Playful Palette
Paper:  Sweet Sugarplum, Whisper White
Embellishment:  Peekaboo Peach Ruched Ribbon
Note:  The normal parts showing stamp and colors is not available for the new products.