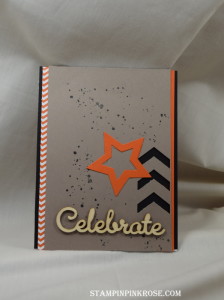 Before we get to celebration season,  I want to apologize for the video problems.  I was notified this morning that the last two videos were marked private.  I was surprised because on my end it shown public.  However, for some unknown reason the publication button did not take.  I do not check my playlist on You Tube.  I go to what shows up on my blog.  A fatal error on my part.  So the Friday Card Fold Video is up and so is yesterday's WOW Wednesday.  Again sorry for this.
Now onto today's card.  You notice I said "a season to celebrate."  This time of the year we have graduations, people retiring, and birthdays as usual.  Hence, season to celebrate.  So keeping with the embellishment theme, I chose to use the Stampin' Up! Expressions Natural Elements.  These are wooden elements that add something to a card. It is perfect on that special card. These elements have Congrats, Thanks, plus the Celebrate all in one package.
Tips
Stamp Set: Gorgeous Grunge
Embellishment: Expressions Natural Elements
Color Combination: Crumb Cake, Tangelo Twist
I think Crumb Cake is a natural with Tangelo Twist.
Ink:  Archival Black
Paper:  Black cardstock, Crumb Cake cardstock,  2014-2016 Color Collections (Brights), Tangelo Twist
Accessories: Star Framelit, Big Shot, Chevron Punch
I can't resist giving you another item.  Notice I said item because it isn't card. Your second embellishment is doing a treat bag and using a clothespin.  Stampin' Up has all these colorful mini clothespins. I simply chose so paper and made a treat bag and decorate.  Go to the Annual Catalog and check it out.  If you need a catalog, you can request on my blog site.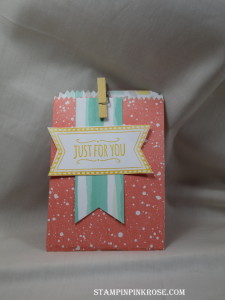 Stamp: Sweet Stack
Accessories: Treat Bag Framelit, Triple Banner Punch
Embellishment: Mini Clothespin