Welcome to the Pals Blog Hop for May where we are preparing for the retirement of some Stampin' Up! products.  Though it may be goodbye to some very loved supplies, it will make room for the much anticipated new catalog products.  We hope you enjoy the Pals' creative projects. You may just be starting the blog hop or may have come Lisa Ann Bernard at Queen B Creations, #9 on the Pals Hop.  If you get off track at any time, the full lineup below will help you move along from blog to blog so you see all the projects. One of my favorite stamps is Moon Lake because it is so versatile.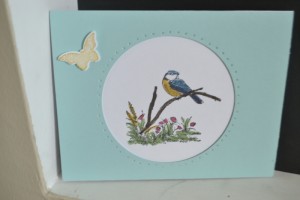 Directions: 1) Cut Whisper White paper 5 ½" x 8 ½" and fold at 4 ¼" (use your bone folder) 2) With circle framelit cut it out (see picture) in the Pistachio Pudding paper 3) Use your piercing tool around the circle 4) Lay the Pistachio Pudding paper on top of Whisper White(base). DO NOT GLUE and mark light with pencil your area of circle. 5) With Pistachio Pudding paper remove it and stamp your image in black 6) You will color in the images (see picture) 7) Stamp butterfly from Papillon Potpourri and punch out 8) Adhere butterfly in upper left corner with dimensionals
Note: My colors are examples. Change the flowers and bird as you wish.     The next stop is Patti MacLeith at Papercrafts By Patti, #11 on the Pals Blog Hop!  Thanks for visiting; I hope to see you on next month's Pals Hop!