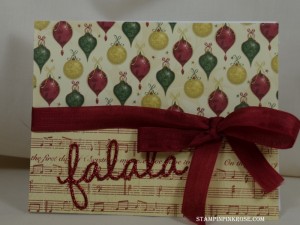 I wish I could sing, but I am not blessed with that talent. Instead,  creativity is my strong suit.  However, this card takes little talent because you strictly using Stampin' Up! Christmas paper and the words came from the Seasonal Frame Thinlets in the Holiday Catalog (page 40) .  Don't forget from you bundle you save and right now Stampin' Up! is giving you a 15% savings on everything in the Holiday Catalog.  This is a huge savings good from October 19th-23rd.. You can place an order through me using the hostess code or email me.  Also, don't forget to sign up for my newsletter and get the FREE 12 Weeks of Christmas PDFs.
Here are the details:
   Hostess stamp sets and rotary stamps are not eligible for the 15 percent promotional discount on stamps.
Bundles are not eligible for this promotional discount, but they will retain their current 15 percent Bundle & Save discount. The stamp set from the bundle may still be purchased ala carte with the 15 percent promotional discount.
Stamps purchased using a 50 percent Stampin' Rewards discount will not be available for this 15 percent promotional discount. Stamps purchased using Stampin' Rewards discounts will still be 50 percent off retail value of the stamp set.
There is no limit to how many discounted stamp sets can be placed on an order.
There is no minimum purchase required for this promotion.
A reminder the craft show is this coming weekend St. Wenceslaus in Omaha.   I will showing and selling my cards and different projects on Saturday.  Please stop by and say hi if you attend.