Many of you have asked what is a blended card.  Let me ask you this question.  How many have stamps or other Stampin' Up! products that are retired and would like a fresh idea?  That is what a blended card is.  It is a mixture of a retired Stampin' Up! product.  It could be a punch, an embossing folder, framelit, or stamp.  It is less likely to be paper. Along with the retired product it has a new Stampin' Up! product which is in the current catalog.  In order to enjoy this you must sign up for VIP which is 100% free! Once you sign up, I will email you the password.
Here is an example of a blended card.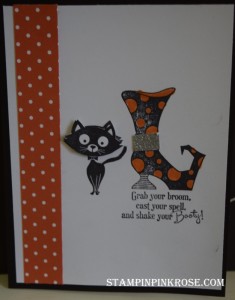 This is a simple card that uses Bootiful Occasions (retired) and You Little Furball (current).  The boot is stamped in Archival black ink and colored with Pumpkin Pie.  The cat is stamped twice — once on the card and another on Whisper White paper in black ink.  The second one is cut out with the tail glued on. The head is cut and placed on dimenisionals.  The orange strip 3/4″ wide.
Now for the big announcement each week for the next 10 weeks I will be showing a Halloween card that is from the new catalog or annual catalog.  So at the end of the 10 weeks you will have 10 Halloween cards and instructions.  Additionally, I will be adding Blended Halloween cards to the VIP Blended group.  So start digging out your retired Halloween stamps and framelits.  Don't forget to sign up for the FREE VIP GROUP. I will send you a password. 
Don't forget to check out my Facebook Stampin Pink Rose for Halloween Fun and a chance to share your scary spookecular card or project.