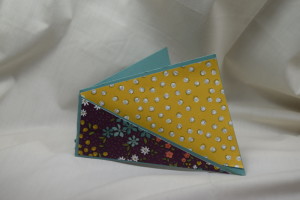 Here is your Card Fold Friday and it is very unique as it is called a Twisted Fold Card.  Watch this video and find out how simple it is top make a Twisted Fold Card. Remember this card does not fit in an A2 envelope.  You can use Stampin' Up! medium envelopes or make your own.  I used the card size on the envelope punch board as 5″ x 5 1/2″.  I will have a video posted in the next few cards for making an envelope.
Measurements:
Solid for your base 4 1/4″ x 11″ score a 5 7/8″ as shown in the video
A piece of designer paper 4″ x 4 1/2″ and mark 2″ down on a 4″ side and cut as shown in the video. You will need on part in white for the inside.
Another piece of designer paper 2″ x 5 1/2″ cut as shown in the video
As a wrap on our tool of the week here is one more card that was shown a few weeks ago. This used the cupcake builder punch.  I first shown this card on March 14th.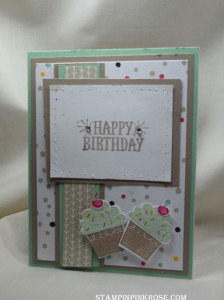 Here is a recap of the punches we looked at and they were in no particular order
1. Curvy Trio Punch
2.  Balloon Bouquet Punch
3.  Circle punch 2″
4. Flower Punch- Pansy and Fun Flower
So which one do you think is my favorite punch? Vote on my Facebook page and get 2 of the cards I made this week.  The winner will be announced WOW Wednesday Video.  At that point you can email me your address.  https://www.facebook.com/stampinpinkrose/