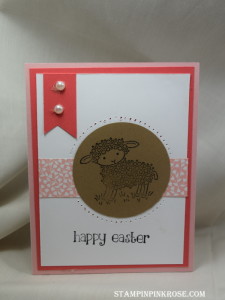 How are you coming with your Easter cards?  I am in love with Easter Lamb in the Occasions catalog.  You know you can use it for baby cards.  Here is a tip. Because it is a wooden stamp,  you need to cut the words "happy easter" off.  DO NOT CUT The WORDS ITSELF.  You will mount the words on the opposite side of the lamb.  Now you can use the lamb separate from the "happy easter".
You are getting two cards today.  I am trying to catch up on my Easter card post.  Both cards used Wink of Stella clear on the lambs. Remember Wink of Stella is the tool of the week. I love to frame the lamb in either an oval or circle to make it stand out. Because one was on white cardstock I chose to color is' ears with Blushing Bride marker.  The other one I helped the circle stand out by using my piercing tool.  This one you can use for baby by changing the greeting.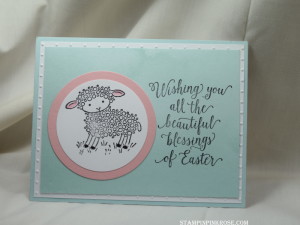 Note:  The one that has the pink strip of paper; I can't remember what paper I used.  However, the English Garden and Birthday Bouquet Designer paper has some paper that will work.  I forgot to include Wink of Stella (#141897) below and the pearls.  Sorry about that.
Don't forget to post my Facebook page your designs this week using Wink of Stella.   https://www.facebook.com/stampinpinkrose
Tomorrow will  be WOW Wednesday  and you don't want to miss this because it involves something we all use in stamping.