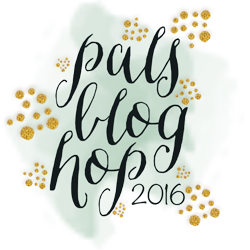 Welcome to the Pals Blog Hop for July 2016. We are thankful you stopped by to take a look at our new 2016 Blog Hop monthly themes.  This month we are featuring projects using our favorite Stampin' Up! Designer Series Paper as well as coordinating embellishments. What we love about Stampin' Up! is they make it so easy to mix and match colors. And, the amazing selection of embellishments provides a wonderful finished look to our projects. We hope to provide you with lots of ideas and that you enjoy our creations.
You may just be starting the Blog Hop or may have come from the previous link from the Line-up on the Pals Blog Hop listing shown below.  The full lineup will help you move along from blog to blog so you may see all the projects.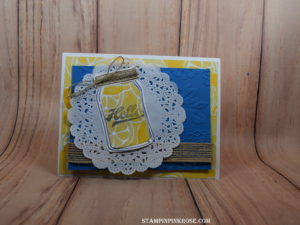 It is time to preserve flavors of  summer.  As summer heats up, you need things that are refreshing such as the summer fruits.  So as we gather with family and friends let us enjoy these refreshments.  I think these lemons will quench our thirst.
Stampin' Up! makes us look like a pro with all the designer series paper and how coordinates with the ink and card stock.  One of my favorite Designer Series paper is the Fruit Stand with all the delicious looking fruit like the lemons and strawberries.
Base:  Lemons from Fruit Stand Paper
Focus:  The Ball Jar of lemons
Tips
Stamp Set:  Jar of Love
Don't forget to bundle and save 10%.
Color Combination:  Island Indigo
Ink:  Island Indigo, Early Espresso
Paper (card stock): Island Indigo, Whisper White
Designer Series Paper:  Fruit Stand
Embellishment:  Linen thread, Delicate White Dollies, 5/8″ Burlap Ribbon
Accessories: Everyday Jar Framelit, Big Shot, Trimmer, Lovely Lace Embossing Folder
Thanks for visiting. To continue with the hop, please refer to the Blog Hop Line-up below. We hope to see you on next month's Pals Blog Hop!