Today I am bringing you a card that is refreshing to me.   Hence, I am calling it "Spiritual Awakening."  every year I visit the mountains which seems to renew me.    So I was delighted when Stampin' Up! came out with "In the Meadow."   It has the mountains, plants, and deer.  Everything that seems to renew my spirit and help me create.  I added a different tree from Lovely As a Tree.  After all, what is the mountains without Evergreen Trees.  The birthday gave you Rose Wonder, but there are others such as Birthday Blossoms and Perfect Pairings.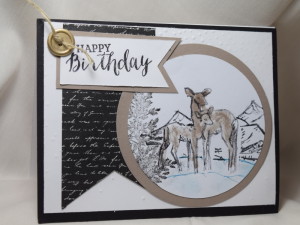 This is the first time I used Wink of Stella.  Boy do I love it!  It gives the snow a little of glisten to the snow.  Watch the video for Wink of Stella.  I know you are going to want this product.
If you would like to see other videos, contact tell me what you are looking for.