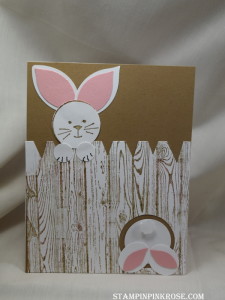 Today the rabbits have my vote.   After all isn't that what Spring is about!  These guys are hanging out to just say hi.  I think they are cute!  What do you think?  The fence came from the hardwood stamp set with Soft Suede ink.  To cut the fence you need to watch WOW Wednesday this week.  However, WOW Wednesday will not be Wednesday this week because of the Blog Hop.  I will post it on Thursday.  I know you will want to check out all the great designs of fellow stampers have created. This will give you a chance to focus on their creations.
Take a special notice the different punches and how you can adapt a flower punch or a tree punch for making the rabbits.  I think it is exciting to use punches that are not designed for that particular punch.  So maybe you need to take second look at your punches and think how you could use them differently.  Feel free to post it on my Facebook page.  https://www.facebook.com/stampinpinkrose  Remember this is how we learn as stampers by sharing.
Additional note,  I might have added to the right of the rabbit (top) Happy Easter or Hello Spring.