Before we begin,  I hoped you enjoyed my crazy picture yesterday.  I thought he was just to cute to ignore.  Now I have a riddle for you what does an octopus and frog have in common?  Water of course.  So today you are getting two cards. The first is part of a challenge and is really simple design which what the team wanted. I just had to pick what I wanted in the circle.  So this frog is sending out love.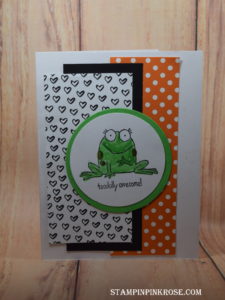 Don't worry this cute frog is not part of the retirement group.  I just chose it because it fit with this challenge.  Your next card will be retiring.
Base:  Is simply to two patterns with the black buffering it in the middle.  Orange and greens go together.  They are opposite each other on the color wheel.  However, the green needs to dominate the colors.   The strips were part of the challenge.
Focus:  The focus is this adorable frog in green with a green circle behind.  I wanted it to be bright as to say "I love you" or "thinking of you."
Tips
Stamp Set:  You're Sublime
Color Combination:  Cucumber Crush, Mossy Meadow
Ink:   Archival Black, Cucumber Crush, Mossy Meadow
Paper:   Basic Black
Designers Paper:  Everyday Chic, 2014-2016 In Color
Accessories:  Circle Collection, 2 1/2″ circle
The next card is another simple card.  We did this fold a few weeks ago. It is called a Collar Card  and was done January 16th as a video. I used the Artistic Paper that is retired out.  The octopus from Seas Street stamp is stamped on a 2 1/2″ circle which I punched out.  I used the bright cheery Daffodil Delight.  The Happy Birthday stated on the side is from Remembering Your Birthday which will be retiring.  It has great greetings and sentiments.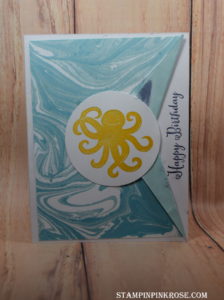 I think the paper looks like the ocean.  Picture the ocean swells. What do you think?