I trust everyone had a great Easter.  I know it was a busy one for a lot of us, but it time to focus on new card ideas.  I pulled into the driveaway from church yesterday and saw a bunny rabbit in my yard. I thought this is a perfect sign of spring and I have a great card to get started.  So here is my bunny with his favorite food…… carrots. I hope he stays out of my garden.
These Stampin' Up! products are going to retired.  Oh, so sad! The Basket Brunch is not just for Easter, but all different occasions. Earlier this month for the Blog Hop, I did a Mother's Day card using the Basket Builder with its' framelit.  Here is a spring card that is so easy to make.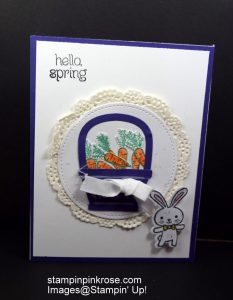 Tips and Tricks
Color:  Pumpkin Pie with Cucumber Crush is a must for the carrots. Then it is a  matter of what will compliment the carrots and not over power it.  Elegant Eggplant came to my rescue. I have seen numerous baskets in purple.  Not all baskets need to be brown.
Stamp Set: Just about everything you need is in this card with the exception of the words. This is where Circle of Spring is used. Remeber you save 10% when you bundle.
Basket Bunch
Circle of Spring
Ink:  One of the colors used here is retiring. I guess we will just need to find another green.  Notice tere is a color missing. Keep reading.
Archival Black
Cucumber Crush
Elegant Eggplant
Paper:  Two different colors is all you need.
Whisper White
Elegant Eggplant
Embellishment:  Just two is all you need.  In the picture, I did one with white ribbon, but I don't think it is needed.
Accessories:  Now for our great helpers.
Basket Builders Framelits Dies
Big Shot
Trimmer
Water Colored Pencils
Tip: I used a touch of a touch of Melon Mambo and White Water Colored Pencils on the ears.
Facebook:  You can find another card on Facebook that uses Circle of Spring. Remember this stamp set is retiring.
https://www.facebook.com/stampinpinkrose/photos/a.835306279904546.1073741828.620259814742528/1050305815071257/?type=3&theater
Watch For More
As usual I have lots blooming in my garden and hopefully from this week you will have more blooming in yours.  I have a theme going for this week…..retiring Stampin' Up! products.  Have you placed your retiement product order?  If not I would love to help you with your order.  You can shop right on my site and here is the retirement list to help you.  https://www.stampinup.com/ecweb/categorypage.aspx?categoryid=10100&utm_source=olo&utm_medium=o1-ad&utm_campaign=new-olo-homepage If you have questions, please email me at http://[email protected]