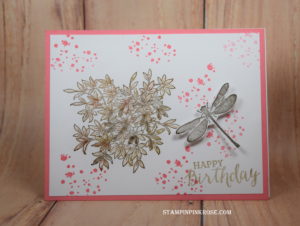 You need to experience the new colors from Stampin' Up! Today I am using Flirty Flamingo and the Soft Suede  which compliment each other.  I think it is simply refreshing and with heat setting in we need it.
Don't forget to consider joining my team of demonstrator where fun is the goal. I welcome Hobby Stampers to the Rose Pals! By joining Stampin' Up! as a demonstrator you will enjoy 3 months of 20% or more of discounts and resources.  Stampin' Up! has announced that you will get 2 FREE Stamp Sets ( any price) when you become a Stampin' Up! Demonstrator in June.  All for $99 and receive FREE Shipping. This is a great way to test drive Stampin' Up! because there is no obligation to purchase anything further and no penalty to drop!  But there is still more because you will get a Free Stamp Set of your choice (up to $30 Value) from me. So give the Rose Buds a chance and see how much fun it is! So go to http://www.stampinup.net/esuite/home/pinkrose/jointhefun  and follow the easy steps.  I look forward to you becoming part of my team.
Base:  Flirty Flamingo over Whisper White
Focus:  It is the beautiful stamps from Artistically Awesome and its dragonfly.
Tips
Stamp Set:  Artistically Awesome, Rose Wonder (words)
Color Combination:  Flirty Flamingo, Soft Suede, Early Espresso
Ink:   Flirty Flamingo, Soft Suede, Early Espresso, Soft Suede refill
Paper:  Whisper White,  Flirty Flamingo
Embellishment:  Dimensionals
Accessories: Stampin' Up! Trimmer, Blender Pen