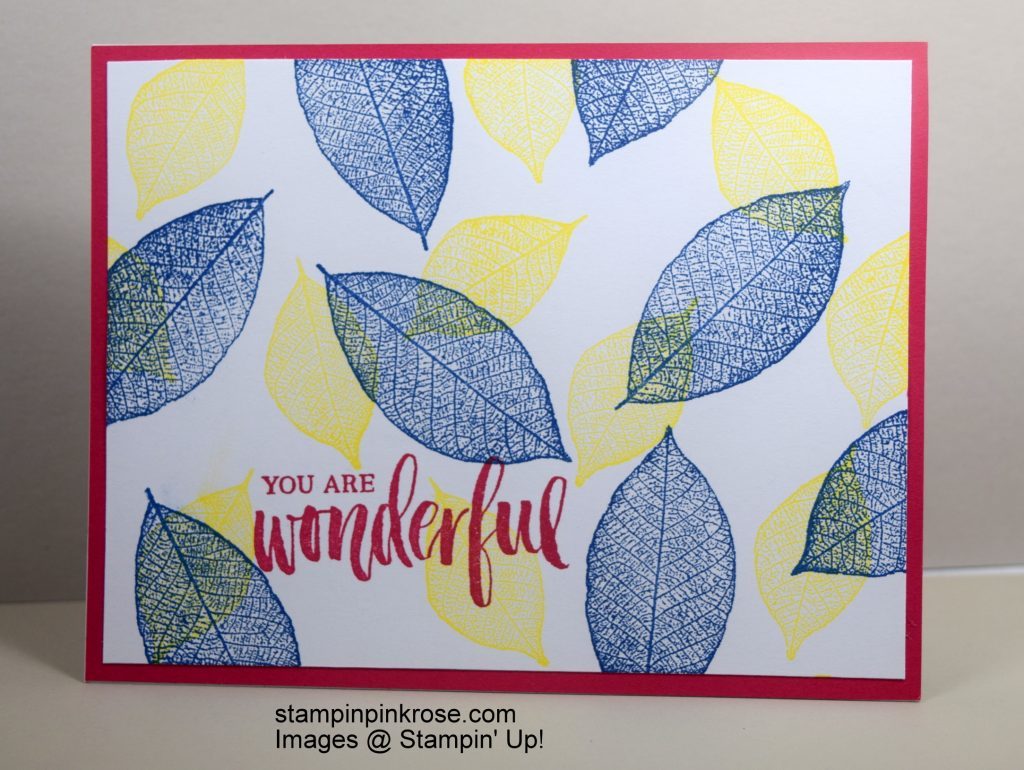 If you haven't heard, Stampin' Up! has revamped its colors for 2018-2019.  This means some colors are leaving us, new ones are coming, and familiar ones are returning.   Yes, they are bringing back some older colors like Coastal Cabana and Mint Macaron.  This is not all the packaging of all inks are changing for the better.  The packaging is easier to open and suppose to prevent air bubbles. We have less than 2 weeks when you can order all the wonderful colors.  Have you requested your new catalog? You can do it right here and don't worry the old is still showing. You will get the new one for FREE plus some goodies.  https://stampinpinkrose.com/catalog-request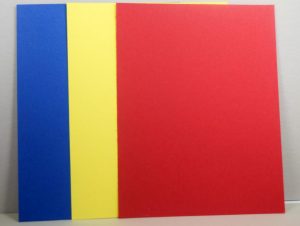 So today's card is all about three new colors that you are going to love.  They are vibrant colors ….. Lovely Lipstick, Blueberry Bushel, and Pineapple Punch.  You will be seeing more of the other new colors later.  Also, I used a new stamp set and it is called Rooted in Nature.  You will love the beautiful trees and delightful greetings.  It is going to be one of the go-to stamp sets for any season.  Don't you love those stamp sets that we get a lot of mileage out of?  By the way, the greeting I chose will be perfect for a birthday, thank you, or a thinking of you card. I forgot the best part of this card, it is a Clean and Simple card.  If you can stamp you can do it.  There is no way you can mess up this card.
Would you like to try making this card at my Beginner's Class in June?  You can plus learn all about what it takes to start stamping. Come join the fun.   Click here for my class details here.
Spotlight on a Stamp
Color Combination:
Pineapple Punch
Lovely Lipstick
Blueberry Bushel
Stamp Set: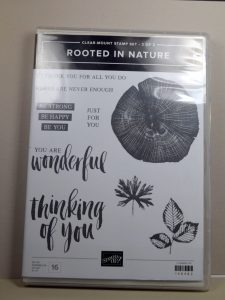 Ink:  
Pineapple Punch
Lovely Lipstick
Blueberry Bushel
Paper: Remember I always use Whisper White as my base.
Whisper White
Lovely Lipstick
Accessories:
Quick Links
DBWS   http://www.stampinup.net/esuite/home/pinkrose/events
Need to order Online Store https://www.stampinup.com/ecweb/default.aspx
For Free Catalog https://stampinpinkrose.com/catalog-re
Join my team  http://www.stampinup.net/esuite/home/pinkrose/jointhefun
Questions http://[email protected]
Pinterest https://www.pinterest.com/stampinpinkrose
Newsletter Subscribe:  https://forms.aweber.com/form/92/498832292.htm