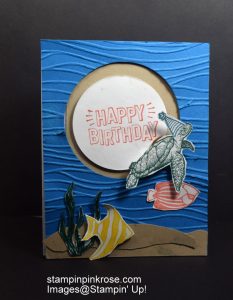 This a fun card to make because it is an interactive card.   So let us make a Circle Spinner Card. You can decorate it the way you want. Which means you can use just about any stamp set and make it for any occasion.
As you see I chose an ocean theme using From Land to Sea for the turtle and the Seaside Shore for the fish. The party hat came from Little Cuties.
Blending of the Old and New
                                           Stampin' Up!
We are in the transition of old and new with the retirement list now available. I have my very own promotion until May 16th. Hint: Special Day for me. When you spend at least $50 with me and add your order to the current Hostess Code 2SXM9CSH, I will send you
Annual 2017-2018 Catalog
Free Product from the New Catalog (can't tell you what it is, but $5 value)
If your order is over $150, I hope you will use all of your Hostess Rewards you have earned.
Right now until May 16th, you can get a free catalog from me at no cost to you plus bonuses to you.  Don't wait to order your catalog as I will be shipping them out after May 10th.  Just email me at http://pamela@stampinpinkrose.com and tell me you want your FREE Catalog.
Become a Rose Bud
Sign up for my newsletter and receive a FREE gift plus PDF every week.
Delivered to your inbox every Tuesday.  You won't miss any exciting news and ideas.
Do you want it all with a discount?   Then join my team!  I'll help you save as a hobby demonstrator or give you pointers on growing your new business!
Order a 2016-2017 Stampin' Up! catalog by clicking here https://stampinpinkrose.com/catalog-request