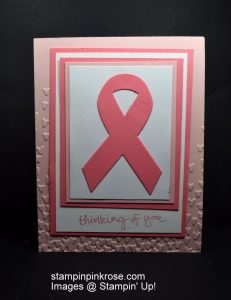 I don't know about you, but it is hot here and that is an understatement.  I woke up to a change in our weather status from Heat Advisory to a Heat Warning.  Either way, you say a 105 or 110  it is too hot!  The point of this that it is a great time to catch up on your stamping.  So I have been making cards to share over the next week or two.  Today's card is using Ribbon of Courage.  The outside of the card says "Thinking of You."  Make this card more meaningful by asking "what do you need?" inside the card.  If you don't hear from them after a couple of days call and repeat your question and be prepared to act.
Next week all Stampin' Up! Demonstrators will have a chance to see the new Holiday Catalog and preorder.  Wouldn't you like to be able to see all the specials and catalogs ahead of time? Then join my team.  Click here for more details http://www.stampinup.net/esuite/home/pinkrose/jointhefun
Soon it will be time to think Christmas cards which mean cool thoughts.  I have people already asking about Hanukkah cards.  So get your birthday cards, thank you, thinking you cards and anything else done so you can start on Christmas cards.  This way you can enjoy the Holidays.
Spotlight on a Stamp
Color Combination:  What color do you need for that cancer? Remember the ribbon color changes with the different cancers.
Powder Pink
Flirty Flamingo
Stamp Set:  Remember you same 10% when you bundle.
Ribbon of Courage
Sheltering Tree (words)
Ink:
Paper:
Powder Pink
Flirty Flamingo
Whisper White
Accessories:
Big Shot
Trimmer
Falling Petals Embossing Folder
Note:  On the ribbon, I left off courage.  You could easily stamp it on the ribbon.
Become a Rose Bud
Sign up for my newsletter and receive a FREE gift plus PDF every week.
Delivered to your inbox every Tuesday.  You won't miss any exciting news and ideas.
Do you want it all with a discount?   Then join my team!  I'll help you save as a hobby demonstrator or give you pointers on growing your new business!
Order a 2016-2017 Stampin' Up! catalog by clicking here https://stampinpinkrose.com/catalog-request
Check This Out!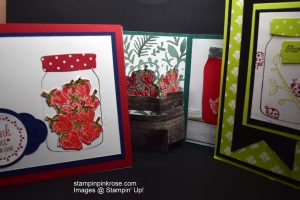 Here are the details for the Stamp of the Month. The stamp set is Sharing Sweet Thoughts.  A Ronald McDonald stamp.
Under no obligation to commit to the next month or any month
Bonus for doing 3 consecutive months($5 off the 4th month and a bonus card idea + a free product gift (my choice)
You receive supplies for 6 cards (2 of each design)
PDF with photos and a supply list
One will be a card fold
All materials are precut (you stamp and assemble)
You provide ink and adhesive including the stamp you ordered from me
Cost will be $40 on this stamp set which includes shipping
I will reveal each card on the 15th of the month so you know what you will be receiving
You have until the 25th of the month to get your order in and your order arrives about August 10th
Go to Shopping here on my blog and you will find Stamp of the Month by clicking here   https://stampinpinkrose.com/stamp-of-the-month  
Specials: You need to place an order today which you can do here https://www.stampinup.com/ecweb/default.aspx
for Stampin' Up! products plus these bonuses.
Orders  $10 to $49 receive my Coffee Cafe (different than today's PDF) Tutorial via email
Orders $50 and up receive Coffee Cafe and This Little Piggy Tutorial plus a $5 coupon from Stampin' Up! to spend in August.
$75 and up receive a bonus tutorial along with the other tutorials
$100 and over you receive all of the tutorials plus my favorite Faceted Gems. You will love this with the Daisy.
Updates:
Hostess Code is EG6PZ4YJ for July for under $150
If you are ordering $100 of Stampin' Up! products, you need to consider joining my team.  This will really stretch your dollars! You will receive $72 in Bonus items worth $72 on top of your starter kit.  Click here for more information https://stampinpinkrose.com/being-a-rose-bud
Stampin' Up! is giving $5 coupons for every $50 you spend in July to be redeemed in August.
You need to make a $50 purchase with me to get the Holiday Catalog FREE in July.
If you have not stamped before and would like to see how much it is, I have Beginner classes on August that are FREE   The time is 1 to 3.  Email me for details or reserve your spot. http:

[email protected]